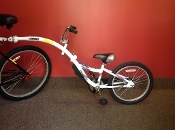 Important Rental Info
Delivery times on the weekends and during holidays/peak summer months are not guaranteed. Saturdays and Sundays are the main turnover days, which requires us to pick up bikes all morning and deliveries starting around noon and as late as 5 pm.
Rentals will be delivered on the date that you provide us during checkout (this should be the day you check in). The pick up date will be the number days later that you indicate (this should be the day you check out). Pick ups start in the morning around 9 AM so please keep that in mind when choosing the length of your rental.
PLEASE NOTE: We DO NOT deliver to Seaside Villas, HH Resort, or HH Beach and Tennis.
Description
Tag-a-long 5-8 yrs old. Requires Adult Bike Rental – This is an attachment only! 
For children not quite steady enough to ride without training wheels or just can't keep up on longer rides. Child can choose to pedal or not. Attaches to adult bike. Adult bike rental required.
Bike Rentals: 
– 24 hour notice required for online rentals.
– Free locks (1 for every 2 bikes if you get 4 or more)
– Free Delivery & Pick Up —  2 bikes or more for 3 Days or more
– Rates subject to change (NOT VALID during holidays or peak summer season)
CANCELLATION POLICY: $10 fee for online order cancellation. If we deliver your bikes and you cancel late, we will have to charge you for the rental for the entire time.
DELIVERIES ONLY – NO WALK IN SERVICE at this time. Thank you! 
Please allow 24 hours for online orders